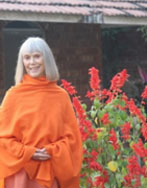 Between lectures there will be guided shavasana practices.
The title of this seminar implies having a 'purpose' in life. All of us have immediate purposes because we must satisfy our needs for food, shelter and self-preservation. Typically, we have many desires in relation to these needs that go well beyond the basics. Our efforts to satisfy such desires take up most of our time and attention. But we live in a world of change: relationships change, jobs end; there are various losses, plus health issues or death of a loved one. Each change threatens our sense of well-being and puts our emotions on a roller coaster.
At some point we think: "There must be more to life than this!" We ask ourselves: "What's the point? Where does this lead?" Not finding answers in the usual places, we start looking within for answers to life's questions.
For guidance on this inward quest, we turn to Swami Rama's teachings in his book
Sacred Journey: Living Purposefully, Dying Gracefully.
We will discuss the need for self-examination and contemplation of the teachings in order to understand what we must change or practice in life if we want to progress toward inner peace. We will consider how living purposefully in this way relates to dying gracefully.
The seminar will be given in English and will be translated in Greek.
Suggested donation: 120 euro
Vegetarian meals and juices, tea and cakes are included.
On
Thursday the 7th of May
do come for a satsang evening from 19:00 to 21:00 to meet and discuss about "The Important Part of your Behavior is how Loving you are*", with one of the wise teachers of the Himalayan Tradition, dearest Swami Radha Bharati, and taste a light dinner with us.
Free participation, donations accepted
Swami Radha said:
We have all learned that we should love one another and we have taught our children the same. But what are we actually telling ourselves to do? What do you understand love to be? And why should we love others?
For answers we turn to Swami Rama and Swami Veda who each in almost every lecture and book included teachings about love. They not only taught how to practice love in our thoughts, actions and speech but also how to understand and work on the various obstacles and resistances that we encounter in ourselves. The evening includes discussion and lecture.
* The title of this talk is a quote from Swami Rama.